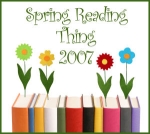 Katrina at Callapidder Days is hosting another reading challenge similar to the one she did last fall……a Spring Reading Thing this time! You can read about it here and be sure to check out this post for more specifics and all the links to the other participants. You can get some good ideas from what other people are reading and your list can be long or short. The challenge lasts from March 21st to June 21st and Katrina is giving away an Amazon gift certificate at the end of the challenge. Hop on over, check it out and hopefully you'll participate too! You have until Saturday night to post your list and add your name to Mr. Linky.
I'm keeping my list shorter this time and it may change a bit later on!
Here's the ones I'm hoping to finish:
Two that I own:
1. Colorado Weddings by Joyce Livingston
2. Kentucky Keepers by Lynne Coleman, Jennifer Johnson, Gail Sattler, Kathleen Y'barbo
Two that I borrowed:
3. A Year of Pleasures by Elizabeth Berg
4. In this Mountain by Jan Karon
and one I'll check out from the library:
5. 204 Rosewood Lane by Debbie Macomber
And just because I like pictures to go with it, here's the books I already have!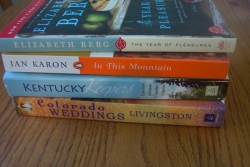 18 Responses to "Spring Reading Thing"
Leave a Reply