I got caught up on watching my 24 tape yesterday so we're all ready for the "Jack Bauer Power Hour" tonight! Don commented yesterday that Jack had been in a Chinese prison for 2 years, never spoke a word, was probably tortured, and on the day he gets out he has to go save the world again. Said he hadn't seen him sleep or eat and he looked to be very physically fit!
I was in the mood to do something and yes, I'm all "GORE-MAY" here today people! So we'll munch on these with friends while Jack does his thing, and let's hope it's an action packed show tonight!
Sugar Chocolate covered pretzels, nothing too fancy!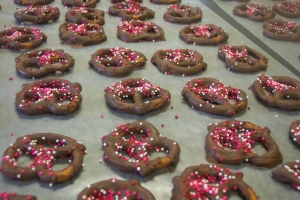 7 Responses to ""No Sugar Tonight in my Coffee""
Leave a Reply