This past Saturday we helped host a marriage blessing/dinner party for the daughter of one of our friends. We met, planned, invited, prepared, cooked; about an hour before the party started, the worst thunderstorms came through and dropped bucket loads of rain! We were under a tornado warning and found out later that some places in town had damage from all the winds. It was almost enough to make us cry for the people trying to get there! But the show goes on you know, and I think a good time was had by all.

Here are a few pictures, mostly of the food and tables because I think I posted last week and said how "purty" it all was! And these are also for my mystery lurker, Kelly, who saw me taking pictures and asked if I was putting them on my blog……..you can delurk anytime Kelly and leave me a comment!
I helped my friend Debbie make a tablecloth for her dining room; well she really did all the work and it was her idea, I just sorta had to hold her hand and help her cut it out. It was "purty" with all the crystals at the bottom and shimmery ribbon which you probably can't see here. The flowers were gorgeous too.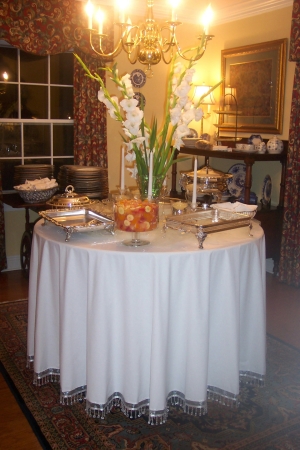 A close up shot with the food, candles, etc. I wish I had been closer so you could see the tulle and little sparkly crystals scattered around……the meat, condiments and beans are on the other side in this shot.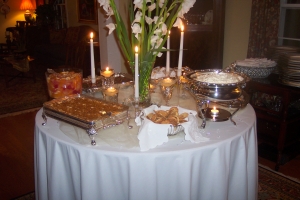 I just thought this was the BEST idea evah and might have to copy it! Although I don't have as pretty of a tablecloth for this as Debbie does. She got another friend to cut a heavyweight foam board to fit over her washer/dryer, then covered it with the tablecloth and it was a great place to fill up cups with ice and serve tea & water! A nice smooth, stable surface and the appliances were covered, how cool!

We used julep cups for tea and they are oh so pretty…..and because we are oh so classy, served the meal on paper plates held on silver and gold chargers! Well they were the really nice, decorative kind of plates you'd buy at a nice gift shop or party place and the chargers made them easier to handle I think. It was a whole lot easier on the cleanup!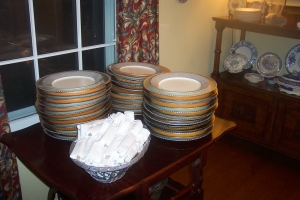 Desserts–doesn't show up too good but we had 4 different ones on the tiered server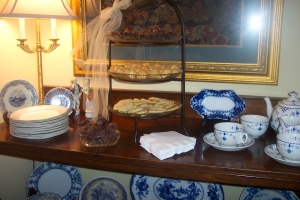 My hubby had been in Tennessee for 3 days before the party and only barely made it home about an hour before hand, good thing too since he was the one in charge of the blessing! He had me worried some because he kept telling me he had no idea what he would say. I should know by now not to worry, he has the gift of teaching and always does really well with it all. A little of what he said/read (by CS Lewis) was so good I thought: "The idea that being in love is the only reason for remaining married really leaves no room for marriage as a contract or promise at all. If love is the whole thing, then the promise can add nothing; and if it adds nothing, then it should not be made……And the promise (the marriage vows) commits one to being true even if you cease to be in love. A promise must be about things that you can do, about actions: no one can promise to go on feeling a certain way. He might as well promise never to have a headache again……Because this promise is so deeply important to the future of the community, it is performed before witnesses who pledge to do all in their power to hold the couple to their vows and help them live up to them."
This is one of the reasons we have a blessing for those getting married; to have a prayer time for them, to give them a charge and let them know they are supported by church family. Hubby had their parents surround the couple while we prayed and it was a sweet time.
I think we decided that this was maybe the 8th party like this we've done, not all of them have been blessings but maybe half have. We have quite a few more kids between us to go yet!
We had fun even if the weather was terrible!
The bride is the young, beautiful girl in the middle, the rest are all us girl hosts, mama types!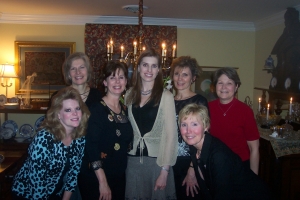 14 Responses to ""It's My Party and I'll Cry if I Want To""
Leave a Reply