This past weekend Don & I flew to Houston to surprise our son for his birthday, a belated birthday surprise. We were in Charlotte a couple of weekends ago when Trent had his birthday so SK decided to have a family get together for him after his big day and for it to be a surprise. We flew out on Friday about midday to spend the weekend. We just hung out and visited mostly; D & T went to the driving range on Saturday and we had to fly back home Sunday for D to teach a class at church. And of course we got to play with the babies, hadn't seen them since Thanksgiving so that was fun.
I totally forgot to take pictures during the birthday party! I was rather bummed when I realized that none of us had gotten camera out at all………so all I really got from the weekend are pictures of the little ones.
AC in her dress up dress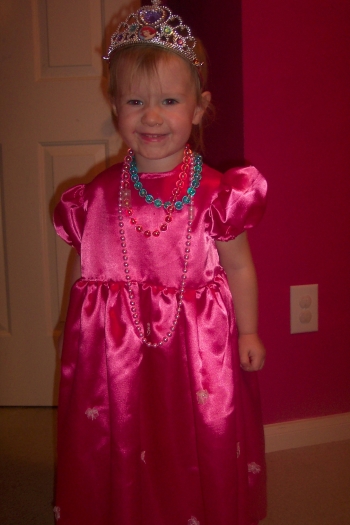 Gray just goofing around and for some unknown reason, he started making signs with his hands! How do you know at 4 to do that, maybe he's seen it somewhere and is copying.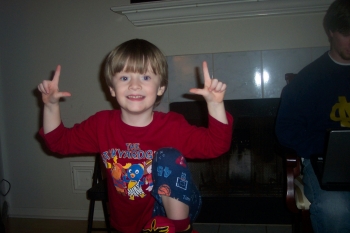 And I got one when they were taking naps…..I love sleeping kids! T & SK had moved a big bed out of G's room and put twin beds in for them to share the room for a while because they like to be together, but for their nap they ended up on the same bed.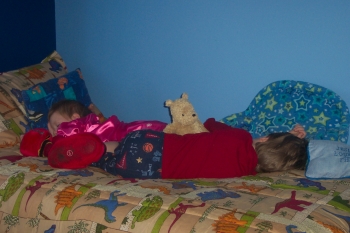 For the birthday dinner we had Catfish Allison, a specialty dish made by a local restaurant/tea room here in the Mississippi Delta. I've had it before at the restaurant but have never known the recipe or that I could even get it! But SK had the recipe so click below on "more" in case you want to see the recipe, it's really good but NOT low fat at all! Mississippi farm raised catfish all the way out in TX!

Catfish Allison
6 to 8 catfish fillets
1 cup grated Parmesan cheese
1/2 cup butter or margarine, softened
6 Tablespoons mayonnaise
6 green onions, chopped fine
1/2 teaspoon Worcestershire sauce
generous dash Tabasco pepper sauce
Place the cheese, butter, mayonnaise, onion, Worcestershire, and pepper sauce in a bowl and mix thoroughly. Butter mixture may be made 24 hours ahead and kept refrigerated.
Poach the catfish fillets in lightly simmering water for 4 to 5 minutes. Gently lift the fillets from the water and set aside to drain.
For individual servings, place the fillets in au gratin dishes and cover with 2 tablespoons of the cheese mixture. Broil for 2 to 3 minutes until the cheese mixture browns.
Without individual dishes, place fillets into a lightly greased or sprayed baking dish. Cover each fillet with the cheese mixture and brown under the broiler. Carefully lift the fillets from the dish onto the plates and spoon some of the pan juices over each serving.
Serves 6-8
It wasn't really hard to do, I helped her poach the fish in a big pan with water while she made the sauce to put on it. We didn't use the individual pans but put it all in several big pyrex casserole dishes. You might could do this with other fish as well but I've only had it with catfish!
5 Responses to ""Deep in the Heart of Texas""
Leave a Reply