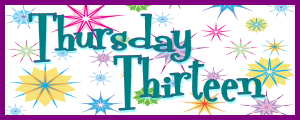 Denise has presented a challenge to TT'ers for this weeks Edition:
"I would like to challenge all Thirteeners to come up with 13 things they like about themselves.
I feel like we, as women, spend so much time scrutinizing ourselves that we sometimes forget the good stuff.�
Thirteen Things I Like About Myself:
1…..that I'm a good wife.
2…..that I'm a mom, and I think I'm a pretty good mom.
3…..that I'm a christian.
4…..my hair, has good texture.
5…..that I love to read, very enjoyable to me.
6…..that I like to drive! Good thing since I do most of the driving.
7…..I have a pretty good sense of direction.
8…..that I can sew, came in pretty handy when the girls were younger.
9…..I'm a pretty good cook too.
10…I have a good memory.
11….that I can be pretty frugal when I need to be.
12….I'm a good friend.
13….that I didn't have to work, got to be a stay at home mom!
Whew, hard to do!
16 Responses to "Thursday Thirteen….#11"
Leave a Reply