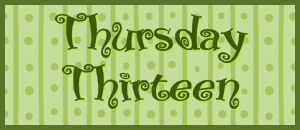 Thirteen Things on my to do list for today
1. Sewing….need to finish some burp cloths I'm embroidering for a baby gift.
2. Wrap & deliver baby gift.
3. Wash clothes…..before the pile gets too big!
4. Mail 2 anniversary cards….not a big thing but hard for me to write notes sometimes.
5. Watch Beth Moore dvd I missed from last week.
6. Wal-Mart…….I usually spend more time there than I need to!
7. Water the yard…..no real rain here since May & it takes some time to move sprinklers all day.
8. Clean off my camera card.
9. Make banana bread….before bananas go bad!
10. Find a spot to store some furniture that daughter isn't using for school.
11. Bag up clothes that need to be donated somewhere.
12. Return dvd & some library books.
13. Clean up my sewing area.
Get the Thursday Thirteen code here!
The purpose of the meme is to get to know everyone who participates a little bit better every Thursday. Visiting fellow Thirteeners is encouraged! If you participate, leave the link to your Thirteen in others comments. It's easy, and fun! Be sure to update your Thirteen with links that are left for you, as well! I will link to everyone who participates and leaves a link to their 13 things. Trackbacks, pings, comment links accepted!
View More Thursday Thirteen Participants
29 Responses to "Thursday Thirteen….#7"
Leave a Reply