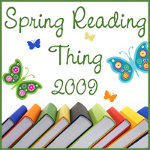 The spring reading challenge hosted by Katrina officially ended yesterday. It feels like summer started a few weeks ago for us, it's extremely hot here in the deep south!
I was able to finish all the books I had on my list; not too difficult for me because I wimped out and didn't include any non-fiction books this go round.
This is what was on my list:
Word Gets Around by Lisa Wingate
Mozart's Sister by Nancy Moser
The Way We Were by Judy Baer
Sweetgrass by Mary Alice Monroe
The Pact by Jodi Picoult
The Help by Kathryn Stockett
Redeeming Love by Francine Rivers
My least favorite of these was The Pact. I didn't particularly enjoy the subject matter; the stuff about teen suicide and teen relationships was just a little depressing to me at times. Picoult is a good author; I've read a few other books by her that I enjoyed more.
Two books that I especially loved were The Help and Redeeming Love, both very different books. The Help takes place in my home state of Mississippi so that interested me right off. I enjoyed the characters and thought the southern dialect was just perfect. I'm probably the last person to have read Redeeming Love but it was oh so good! I was familiar with the basic story from the bible but loved that it was retold with the setting in California during the 1800's and the Gold Rush days. I wanted to savor it as I read while also wanting to hurry up and finish it! Very emotional story I thought.
I always enjoy doing Katrina's reading challenges. She'll host another in the fall so think about joining up then!
8 Responses to "Spring Reading Thing…wrap up"
Leave a Reply