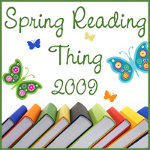 Today is the start of the Spring Reading Challenge hosted by Katrina. It will run until June 20 and it's a good way to read any books you've been putting off! I believe she will have some prizes/giveaways along the way so be sure to check in with her every week or so. There's no pressure to finish everything you pick and it's ok to change your list if your little heart so desires! That's a good thing for me because I can be a very moody reader at times. I usually try to include one non-fiction book when I do these because I just don't read it otherwise but right now I'm picking all fiction. Unless you know, the mood strikes me to change later!
Here's a few I'm hoping to get read over the next couple of months:
Mozart's Sister by Nancy Moser
The Way We Were> by Judy Baer
The Pact by Jodi Picoult
Sweetgrass by Mary Alice Monroe………all four of these books belong to my sister who loans lots of books to me with no time limit on returning them! But I've had these for many months now and just haven't been motivated to read them so I'm hoping this will get me going.
Word Gets Around by Lisa Wingate
The Help by Kathryn Stockett
Redeeming Love by Francine Rivers; I actually just bought that book this week on a whim. I've always heard what a good book it is so I'm looking forward to it.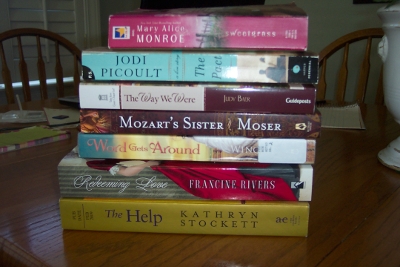 Not pictures is The Guernsey Literary and Potato Peel Pie Society by Mary Ann Shaffer; my library doesn't have it but I hope to get my hands on it sometime in the next few months.
Happy spring reading!
17 Responses to "Spring Reading Thing"
Leave a Reply