I seem to be going long between posts now and I'm not sure what all I've been doing with my time! We did have a gathering at my house recently so I spent some time getting ready for that plus a few other tasks that needed to be taken care of. And spring teased us with some warmer weather and gorgeous days for a week maybe. It was nice enough to be outside and do yard work, that is if you like to do yardwork! I don't love it but tried to get a bit done. It was in the 80's one day here and then back to the 40's yesterday. It drizzled most of yesterday and apparently we are in for more rain over the next few days; I'm so not a fan of the rain! No working in the flower beds now, too chilly and damp. This kind of weather makes me want to stay inside and do nothing, or read, or catch up on my dvr'd stuff……and it also makes me do stuff like this: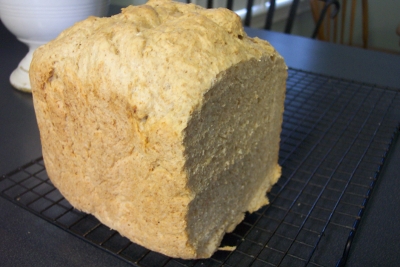 I found a recipe we like for the bread machine. There would be a piece missing from the end there because HELLO, warm bread + end piece + butter = one of my favorite things! This is also good warmed up in the morning with cinnamon sugar on it but I'm not saying that I tried that or anything.
I'm off to see if I can squeeze some errands in before more rain comes, plus I've got sewing to do. I'll take some pictures if it turns out ok.
Enjoy your Thursday!
9 Responses to ""I can't stand the rain, against my window…""
Leave a Reply