It's Friday and time for Susanne's meme for sharing some of your favorite things from the week. I'm glad it's Friday because I'm looking forward to the weekend!
1. We had a surprise snow this week! Not much for lots of you in the north but snow, most any snow, is a big deal in the south because we just don't get it but maybe once a year. This is what we woke up to on Sunday morning, kinda fun.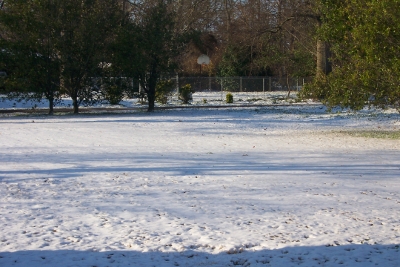 2. The opposite of that is the spring like weather we're now having, I love it! It was around freezing at the first of the week but is now in the 70's this weekend.
3. Blueberries on my cereal
4. Facebook games, especially Scramble with Annie!
5. Bread machine I got for christmas….I've had fun playing with it.
And just because I have to put it in
6. Lost! Some good, good tv! I may be lost half the time but oh what fun to figure it out.
What's been your favorite thing this week?
Have a great weekend!
11 Responses to "Friday's Fave Five"
Leave a Reply