It's been a while since I participated in this monthly meme……my laptop crashed before Christmas, my blog was down for a while and then our internet service was out! I hope that will be it for the computer problems until much later.
5 Minutes for Books is a great site for book reviews, recommendations and other book related things. So check it out to see who else is sharing their books today. These are a few of my books for the month: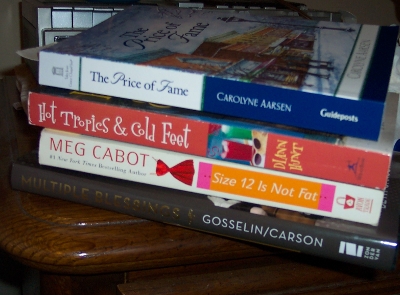 Not pictured but something I just finished were the Sunrise series of books by Karen Kingsbury; the last of the books about the Baxter family. I enjoyed them all and was sad to see them come to an end! At times they might be predictable but I'm ok with that and like to read something clean.
Multiple Blessings by Kate Gosselin is on the bottom and I actually just finished it as well. You might know it from the tv show about their life with 2 sets of multiples and if you like the show you'll probably enjoy the book. I thought it gave some interesting info about their early days and struggles.
Size 12 is Not Fat……I know nothing about this one and haven't even read the blurb on the back! It's one of the many fiction books loaned to me by my sister Stacy.
Hot Tropics and Cold Feet…..I've not read anything by Diann Hunt yet; this is another borrowed book.
The Price of Fame….a Guideposts book from the Tales of Grace Chapel Inn series and the one I'm currently reading. Surprise, it came from Stacy…..she's better than the library! Not sure what will be up next for me after I finish these but the sack of books she sent with me is big enough to have plenty of choices.
I always love recommendations so tell me what you've been reading lately!
18 Responses to "What's on your nightstand?"
Leave a Reply